An Early Start
Tuesday, March 21:
Flying to the Bahamas
Weather:
A cold morning in Pittsburgh, hovering around freezing but 34% humidity, breezy and mid-70s by afternoon in Nassau
Route:
Pittsburgh Airport Gate B36 -> Charlotte Airport Gate C2 -> D1 -> Nassau Airport -> 12 Swan's Street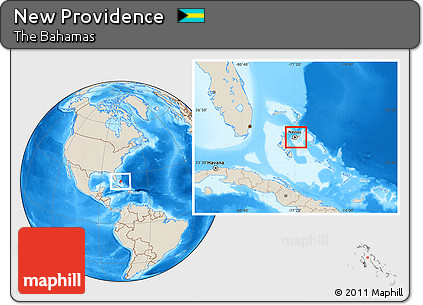 Shaded Relief Location Map of New Providence
Highlights:
- no flight delays and smooth rides
- sane taxi ride from the airport to the studio suite for $27.00 + $3.00 tip
- Rhonda waiting to greet and orient us
- A pleasant afternoon temperature for walking to Downtown Nassau
- Having a chance to see some restaurants and how the traffic and busses operate along our walk
- Buying a BTC SIM card for our phone
- Riding the #12b bus west on West Bay St to a SuperValue near Cable Beach
- Disappointing and expensive food choices but finding suitable breakfast and dinner items
- Riding the #10 bus east to our Ferguson Rd stop and walking back to Rhonda's
It wasn't as difficult as I thought it would be to climb into bed at 21:00hrs last night. We were packed, the house was clean, the laundry was done and the carry-on food we were taking with us was the only food left in the fridge. It felt weird to be so organized, to not be taking care of last minute chores until midnight, but I didn't let it unsettle me so much that I couldn't fall asleep.
With 7 hours of sleep, the 4:00 alarm this morning didn't seem that early. We were out the door at 5:00 and at the airport by 6:00. For the first time since self-service kiosks were introduced I was not able to use them to generate my boarding passes because the check-in process, seeing I had a non-USA passport, asked me to scan my Permanent Resident Card, which had been issued years before magnetic strips were used (yup...I'm old). Hubby and I were ushered to the check-in desk where a real person with nothing else to do took care of everything in no time.
Our Boarding Passes gave us both Pre-TSA status, so we left our shoes on and joined the short line. Reaching Gate B36 by 6:30 I only whined once about not getting to sleep for another 30 minutes. The flight to Charlotte, North Carolina was full.
We arrived early into
Charlotte Airport
-- easily able to walk from Concourse C to B in the hour lay-over. The Nassau flight had many family groups but was not full. It felt like a luxury to have the empty middle seat between us. At the Lynden Pindling (formerly Nassau) International Airport on New Providence Island, the
Bahamian Immigration process
was efficient -- one rat maze queue with the head of the queue being directed to one of eight officials by a digital overhead number display. Apparently not fast enough for an older fellow behind us who was desperate for a cigarette (and we guessed from his accent was from New York). The live Bahamian band playing in the Immigration Area had many of us swaying with the music while we waited. What a great introduction to a Bahamian state of mind.
After Rhonda gave us a warm Bahamian greeting and settled us in we set off to find a supermarket and the BTC office where we wanted to buy a SIM card. Rhonda offered to drive us to the Super Value but we declined, preferring to start learning the bus system. She gave us directions and a map. Most bus rides cost $1.25/person. We walked up the road to the main street, West Street, to buy a bottle of water and get change, then started walking east, toward
Downtown Nassau
.
The plan was to walk to the
Fish Fry at Arawak Cay
to see what our dinner choices might be, then take the #10 bus to the BTC office in town. The Fish Fry is an area of small vendor booths offering everything from burgers to conch salad. Most foods were local Bahamian dishes. We would have liked to try a dish but the area had an odour of standing water so we kept walking. In no time we found ourselves in downtown Nassau, where we found the BTC office exactly where the gas station attendant said it would be.
British Telecommunications Company
offered a
SIM card
for $14.88 with another $21.00 for 2GB of data and phone minutes, for a total of $37.00 with tax (cheaper than the $40.00 AT&T charges for an International Travel Plan when also comparing the cost of local calls charged by each company). A technician installed and activated the card for us, checking to be sure our phone could receive texts and browse the Internet.
The walking felt good after hours on the plane but by 17:00 we were ready for a small dinner. We found the #10 bus heading west for a ride to a
Super Value
store near
Cable Beach
. A few breakfast and dinner items, only as much as would fit in our day packs, quickly added up to $38.59. Bus rides cost us $5.00.
We managed to stay awake until 22:00. The bed was bouncy and very comfortable, not soft and mushy like some rentals.
Rhonda's Retreat : We chose this type of rental specifically to live more like middle-class Bahamians and less like rich tourists during our stay. Rhonda's Retreat was a pretty bungalow in a quiet neighbourhood. By quiet we mean the traffic noise was minimal, we heard no boisterous partying and we only occasionally heard barking dogs. Our Studio Suite was a small room attached to Rhonda's house. This was not a room to luxuriate in, rather a homey place to sleep in after a busy day of activities. We had minimal luggage - one checked bag, one carry-on backpack and two day packs. They all stowed nicely under the bed. With a one-burner gas hotplate, a microwave and a mini-fridge we were not going to create gourmet meals, but in the small kitchen space I was able to microwave a potato each and top them with a bag of spinach, cooked separately in a pan. The lighting was a bit dim for our liking. We prefer full spectrum lights but rarely get them anywhere but at home. The studio was not immaculately clean or stylishly furnished, but for an older building in the Caribbean it was satisfactory and bug free. We thought it met our requirements perfectly.

Rhonda and her mother bought the house in 1969. It is well-built and sturdy, not like newer homes in the area. She made improvements over the years but kept the integrity of the older Bahamian style, in keeping with her desire for a small ecological footprint. We also really appreciated that by opening the windows in the Studio there was a lovely cross-breeze which made the A/C totally unnecessary.